Publicado el Viernes, 29 Mayo 2009
Escrito por GeocachingSpain
Actualización de la serie Magellan Triton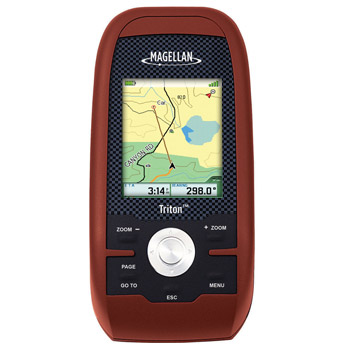 Magellan acaba de sacar una nueva actualización para la serie Triton, la 1.72. Aunque poco populares, estos gps tienen unas características muy interesantes para su uso en montaña y geocaching y van "armados" con el famoso chip Sirf Star III. Lo podéis actualizar a través del software de Magellan VantagePoint.
Aquí disponéis de una lista con las mejoras realizadas (en inglés):
Added optional Navigation Fields to Map screen for Triton 300/400/500 devices
Added Quick Info on Map screen
Contextual menu improvement
Power Saving - reduce backlight if battery level is 50% or lower
Electronic Compass User Calibration UI improvement1
Move low-level settings (e.g., time zone and power timer settings) from the Profiles to Setting
Add additional settings to Profile
New Coordinate and Elevation Entry UI
New Strip Compass Navigation screen
New Road Navigation screen
User Grid (Trans. Mercator only)
Coordinate Fields display on the Info pages
User Object Selection improvement
Option to clear active track after trail was created
Option to turn ON/OFF Navigation Screens.
GeocachingSpain
Visto: 2482